♫ It's the holiday season
With the whoop-de-do and hickory dock
And don't forget to hang up your sock
'Cause just exactly at 12 o'clock
He'll be coming down the chimney
Coming down the chimney
Coming down the chimney, down! ♫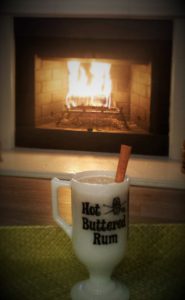 When Santa comes down my chimney he's expecting something a bit more potent than cookies and milk!  It's been quite cold here in the southeast, so hot beverages and toasty fires are starting to become a habit in my house.  I whipped up a rather large batch of my Hot Buttered Rum batter, enough to get me and Santa through to New Year's Day.  Many have asked, so the recipe follows.  It's kind of a mash-up of two different recipes, one from the web and one from a book, with lots of my own tweaks.  I like my batter rather spicy, but also quite creamy, so my recipe includes seven different spices and vanilla ice cream.  Feel free to increase spices you like more, decrease or even eliminate ones you don't.  Make it yours!  Enjoy!
JenTiki's Hot Buttered Rum
1 heaping Tbsp of batter (recipe below)
2 oz good quality blended aged rum (don't use a spiced rum)
Enough hot water (close to boiling) to fill the mug
Put the batter and rum into a heat-proof mug and top with the hot water. Stir ingredients together until batter is melted and incorporated.
Garnish with a dusting of freshly grated nutmeg and a long cinnamon stick
Hot Buttered Rum Batter
1 cup of salted butter (softened)
2 firmly packed cups brown sugar
½ cup demerara sugar
1 pint vanilla ice cream (softened)
4 cups powdered sugar
1 tsp ground cinnamon
½ tsp ground nutmeg
½ tsp ground ginger
¼ tsp ground cloves
¼ tsp ground allspice
¼ tsp ground black pepper
¼ tsp salt (½ tsp if using unsalted butter)
Step 1.  Using an electric stand- or hand-mixer*, cream together the butter, brown sugar, and demerara sugar.
Step 2.  Mix in the softened ice cream until well combined.
Step 3.  In a separate bowl, combine the powdered sugar and remaining ingredients.  Add this mixture about 1/3 at a time to the butter/sugar/ice cream mixture and mix until thoroughly combined and smooth.
Put the mixture in a storage container and keep in the refrigerator until the butter's expiration date.
* if you don't have a stand- or hand-mixer, melt the butter first to make it easier on yourself and use a wire whisk. Start by combining the melted butter, ice cream, brown sugar and demerara sugar together, then proceed to step 3 above. Be sure to cool the finished batter before refrigerating.